Warning: Hypocrite at the keyboard!
My message in this post is to find the happiness to just be. This should come naturally to us as human beings but it seems like somewhere in history we started to try and become human doings instead of human beings. Admittedly, I have not figured out how to unlock the secret to full happiness while just being. I know this level of fulfillment and happiness is possible. I just feel far from achieving this balance. 
In a fitting turn of fate, this blog post has been in the queue getting limited attention for the past few months. Whenever I would think about sitting down to type out thoughts on this topic I also started to think about all the things I "had to do".  In working to check things off my man-made list of things I feel I need to do in order to try and work toward feeling fulfilled. I think this is a common feeling (?). The feeling that the job is never quite done, that there is always something else to take care of or task to complete.
At the church I attend, Berkley Hills, we have been working through a series titled 'Think. Act. Be.' Each week has served as a reminder I have failed to complete this post, primarily on the basis that I have been doing other tasks rather than completing this next thought. Potentially the toughest part in thinking about the theme at church is the notion that what we think about drives our actions, and as a result our actions drive who we are as a being. I am very guilty of thinking about what is next, rather than appreciating everything around me in the moment. This lack of living in the moment has caused many issues. Most of the time the overload of things on the mental To-Do list overwhelms my thoughts and I default to a new episode of Parks & Rec… This is not helpful in many ways! Sure a little dose of humor helps keep the endorphins up, but it isn't helping my state of being or feeling that I am achieving my full potential.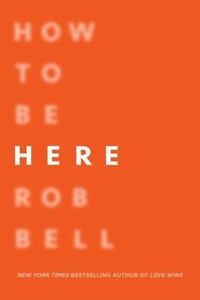 On a recent road trip I listened to Rob Bell's How To Be Here. Listening to parts of this book reminded me of me first post Nothing New Under The Sun. The words I type here are not mind-blowing or unique only to me. Bell's book is an enjoyable listen.  (I like when the author reads their own work.) The book is enjoyable but nothing revolutionary. Common issues I think most of us face and some suggestions on how to get better. The final section of the book about his perspective-altering concussion hit too close to home for me and I was reminded yet again how blessed we all are to wake each day.
To cut straight to the punchline, enjoy each day. As best you can, enjoy being alive and all the ups and downs that go along with this thing called life.
P.S. This notion of needing to improve my 'being' really stems from Pastor Bob out in Mascalero, NM. While on a mission trip during college I asked him a simple question "What do you still struggle with in your faith?" I will never forget his reply that "I struggle to just be." A thought so simple and complex at this same time. Peace.